Received 7th Jan 2005 at 13:17

We enjoyed a great sail across from St Lucia, making the trip in one tack, and enjoyed a relaxing afternoon and evening at anchor. Yesterday morning found us heading the short distance into the large town of Marin to complete customs and immigration paperwork. Marin was packed with boats and we quickly decided to return to Ste Anne after some provisioning. While there we met Kika again and they then came out to the anchorage with us and joined us for drinks ashore then dinner aboard last night. This morning the sun is shining and the boat swings gently at anchor in the light northeasterly breeze. The anchorage here off Ste Anne on the south coast of Martinique is roomy and pretty with clear water. We feel relaxed and happy here and have decided to stay for a few days. The wooded gentle hills nearby promise some good walking and we plan to go ashore soon to explore. Position - 14deg 26.3N 060deg 53.2W.

Received 12th Jan 2209

After a wonderful week in Ste Anne we are currently sailing at speed back to St Lucia and look forward to dinner tonight at Jambe de Bois on Pigeon Island. More details and photos soon.

Received 3rd Feb. 1630

Finally extricated ourselves from Rodney Bay and heading south in direction of St Vincent and Grenadines, famed as one of the most beautiful cruising grounds in the world. Currently passing down St Lucia's west coast to stay tonight at Soufriere.

We've been in the anchorage for a couple of days now. We love it out here swimming around the boat and watching the sunsets. Also we have had plenty of time - and opportunity - to indulge in our new hobby; the art of anchoring. We often dive down to inspect both our anchor and those of the boats around us - we see some pretty insecure anchors (and not always ours!). But why do they sometimes work and sometimes not and how can you predict this? We tried to anchor (twice) on the south side of the bay initially but the anchor dragged badly. I dived on it to watch it skate along the top of a layer of grapefruit size boulders. Then we moved over to the north. Here I swam and watched the anchor dig its nose into the sand beautifully but as the wind changed direction the chain found a rock to grind on, which it did noisily all night. As we sat nonplussed a catamaran motored past and dropped anchor much closer to the beach in the shallow water. They always do this as they are quite small under the water and it's really annoying. So probably having the smallest and shallowest yacht in the Caribbean we decided to follow. After initially scouting with snorkels we tentatively motored past the other yachts towards the beach. As the water gets shallower and more sheltered we can easily spot the rocks and weed from the patches of soft sand. With about one metre under the boat we can drop the anchor just where we want to rather than casting it blindly into the murky depths with fingers crossed. So here we are, after six weeks in the Caribbean, relaxing and enjoying those sunsets while we swing with the cats just off the beach.



Received 27th Feb. 0010

The First Six Weeks And Learning to Chill (31st Dec-22nd Feb.):

We completed our transatlantic just after dawn on 31st Dec. Margaret and Rodger (Nat's parents) had arrived in St Lucia the day before and it was wonderful to have them there to share the moment with us. Over the next 2 weeks we sailed with them to Martinique, walked the beautiful paths along the south coast (pics), learned to anchor and use the dinghy, and mixed our first rum punches. During this time we decided against a passage through Panama and into the South Pacific this year. We wanted to slow down and spend some time relaxing and exploring the Caribbean. And so, as Margaret and Rodger's plane climbed into the sky taking them home, and Nick and Ellen (our great friends on Kika) sailed South towards Central America and beyond, we found ourselves with hangovers but without much direction, in the marina. Not sure what to do we threw ourselves into boat tasks, the only thing we knew other than sailing to deadlines. Free Spirit got cleaned and now sports bright blue washboards, we got hot and exhausted! One memorable break was a walk around Pigeon Island in the rain with our Norwegian friends Sonja and Oystein from Apricus. Finally, after two weeks, we extricated ourselves from the marina and while sailing South to meet John (Mark's father) in St Vincent, we finally started to relax. In fact the smiles started as soon as we backed out of the berth. At anchor under the magnificent Pitons we swam around the boat, watched the sunset, and vowed not to get stuck in that marina again!

John arrived on the 6th February and the three of us cruised the North Grenadines. Instead of trying to see everything we left a few days between each passage to see the place, swim, snorkel and read. It was great. John left from St Lucia and afterwards we spent a few days in the marina getting the boat together and then moved out into the anchorage at Rodney Bay.

Received 28th Feb.

Received 5th March

Click here for: - Margaret and Rodger's Guest Log (31Dec to15Jan)

Received 22nd March

27th Feb. to 22nd March 2006

We spent a few days quietly swinging at anchor in our new inshore location in Rodney Bay, St. Lucia before sailing north to Martinique on the 27th February. On the way we saw our first whale - a breathtaking and awesome experience. We think it was a humpback and looked no shorter than our boat.

We spent some time in Ste Anne reading and walking during the day, and sitting on the foredeck watching the sunset drink-in-hand each evening. During this time we cultivated our new hobby - not spending money - a pastime in which we indulge at every opportunity. Several days were spent anchored near the town of Marin; re-provisioning at the good supermarkets, maintenance of the boat using the good chandleries and making new friends of Will and Alyssa from 'Ragtime' and Paul and Ute from 'Damairi'.

Throughout these weeks we had plenty of adventures (although not always fun at the time) like almost going aground during dinner, defending the anchorage from a cat burglar with our spotlight, nearly fitting leaky pipe to our toilet, being searched by customs at night and finding our dinghy ('Dude') trapped under a pier by the tide.

The time came to head north to meet Tristan and Emma (Nat's brother and wife) in Antigua, and so low in the water with provisions and sporting a highly efficient new loo, we sailed north into new territory (for us) on the 16th March. The weather had settled at last after a long period of unseasonally windy and swelly weather (prolonged - like since we arrived) and our sail north was pure joy. Day after day we sailed effortless across the wind in the sunshine. During the mornings Free Spirit proudly shouldered her way through the water at hull speed (max. speed) sending rainbows of spray and by afternoon she sat quietly in a new anchorage while we explored ashore. St Pierre - Martinique, Portsmouth - Dominica, Bourg des Saintes - Les Saintes, and finally Deshaies - Guadeloupe where we now sit within striking distance of Antigua.

Daily we have experiences to test us; frustrations, surprises, mistakes. Each day we learn a little and with each day we are reassured to find ourselves managing things a little better.


23rd - 29th March

LAND OF SEA AND SUN
Another fine passage north found us in English Harbour, Antigua ("Land of Sun and Sea") exploring the manicured lawns and tea shops of the restored Nelson's Dockyard. We were here to meet Tristan and Emma (Nat's brother and wife) - something we had been looking forward to for the past month. They arrived the following day looking pale and hot in their jeans. Before long though, they'd cooled down nicely in the Caribbean waters, and it was good to catch up with what they'd been up to over rum punches.

With the company of a lone dolphin, we had a pleasant sail to a small cove called Rickett Bay on the uninhabited Green Island, on the east coast of Antigua.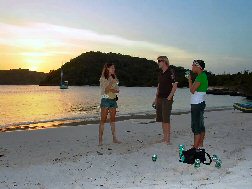 Rickett Bay, Antigua
We tucked in very close to one of the tiny beaches and later, after snorkeling and viewing the rapidly shelving sea bed, we placed a second anchor for the first time. Mark laid the Danforth out by dinghy at approx 45 degrees to the main anchor to hold us off the beach if the wind should shift around to the south. Happily anchored now, we went ashore with cold beers and enjoyed a beautiful sunset.
Part of the reason for Tristan's and Emma's trip was to visit Emma's relatives on Nevis; 50 miles to the west of Antigua. After a couple of starry, peaceful nights at Rickett Bay, we moved around to Jolly Harbour on the west coast of Antigua so as to be well placed for the passage to Nevis the following day.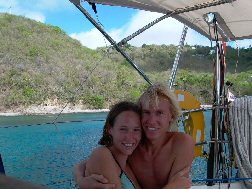 30th March - 5th April

CALM SEAS AND FAMILY REUNIONS
Departing at dawn in calm, and with our guests fast asleep, we motored across to Nevis, anchoring late afternoon off the long, clean, sandy and palm-fringed Pinney's Beach. Emma and Tris swam ashore to make their first landfall under their own steam.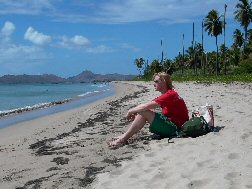 Tristan on Pinneys Beach, Nevis
Nevis is neat and friendly - we quickly felt at home and before long we found ourselves at the annual Agricultural Fair. Alarmingly the admission fee of 2 EC dollars (about 50p) entered us into the raffle, in which the first prize was a piglet. We enjoyed wandering around the stalls, eating local food of rice and peas, corn cake, macaroni cheese and barbecued chicken, meeting the local characters, and with relief leaving empty-handed.
Back at Pinney's Beach we met Lindetta and Mark who live in Nevis and own 'Pearl of Nevis', a Vancouver 32. As you can imagine we had plenty to talk about. They also run the relaxed beach bar 'Double Deuce' serving delicious food, Lindetta's Tania Fritters being a favourite. Our friends on Wild Alliance also arrived unexpectedly and we enjoyed seeing them one last time before our ways parted for good as they are heading back to the UK. After three too many 'Killer Bees' at Sunshine's beach shack, we tried to remember to which palm tree on the three mile long, star-lit Pinney's Beach we had tied our dinghy, and, sometime later, rowed back to a lonely boat.
The previous day Tris and Emma had moved ashore to stay with her relatives in Bricklin. We were kindly invited to visit the Pemberton household one day. The obvious form of transport was the ubiquitous local buses found throughout the Caribbean. These are small, straight sided vans about the size of a family car, with rather small looking wheels, and always a loud stereo usually blasting out reggae. Inside sit as many people as possible and in the front a racing driver. The journey is a mixture of hurtling at top speed along the roads with the occasional stop en route, sometimes to chat to other drivers going the other way, other times for the driver just to grab a spot of lunch at home. Thankfully we arrived in one piece, and were rewarded with a delicious lunch and a lovely afternoon chatting on the porch with Emma's Grandmother Georgina, Aunt Elrika and friend Loretta. Sadly the time came for Tristan and Emma to leave and after saying goodbye we decided to move 10 miles north to the marina at St Kitts as we were totally out of water.
6th - 11th April

KICKING BACK IN ST KITTS
Although St Kitts and Nevis are part of the same country they feel quite different. Basseterre, the capital of St Kitts, is run down and poor and sat unhappily behind a glitzy, new cruise ship dock and duty-free mall built on reclaimed land. The town had an unfriendly, city feel. Nevertheless, we enjoyed our time here. We meet new friends, explored, gave Free Spirit a greatly needed clean and polish, and frequented as much as possible the marina showers, which we consider to be the best in the Caribbean (even though there is no hot water.) Keen to integrate into local culture we ate where the locals ate - Kentucky Fried Chicken and Subway - and on Palm Sunday went to church. At the end of mass we were asked to stand while the whole congregation sang 'Welcome, We Love You No Matter Where You Are From'. We smiled back inanely but felt quite special.
Received 27th April
11th - 14th April

ROLLED IN ASH
We eventually left St Kitts with the intention of a brief stop at Pinney's Beach in Nevis before going south to Guadeloupe. Here the conditions conspired against us; we would pay for those extra nights spent at St Kitts with a good forecast. The winds came around from the south preventing us from moving on, making the anchorage very rolly, and finally covering us with ash from Montserrat. The island of Montserrat sits halfway between Nevis and Guadeloupe and is home to a real-life volcano, which happened to be very active while we were in its vicinity. We were in a pickle - if we opened the hatches the boat filled with ash, if we closed them we baked.
After a sleepless night baking and rolling, we escaped with the rising sun in an unprecedented moment of forecasting genius. Leaving just as the wind kicked south we managed to make Antigua to the East. It was a glorious sail hard on the wind but fast and we arrived in Jolly before the sun set, perfectly timed to celebrate our one year anniversary of living aboard Free Spirit-----.

Received 2nd May
---- Early the following morning, still feeling tender from the anniversary celebrations the night before, I set off to find a local bus. I was required to visit the port authority over the far side of the island in English Harbour.
Procedure varies but normally on arrival at an island we are required to visit three separate departments: customs, immigration and port authority. Unfortunately on our arrival the previous day, after visiting customs and immigration, I found that the port authority was closed. Since the procedure requires all three departments sense would suggest that they synchronise their opening hours - but heck what do I know! Awkwardly we were now trapped in the middle of an administrative process; neither in nor out. Initially customs were intent on holding our papers until Tuesday when the office opened again, so trapping us in Jolly Harbour (and of course rendering us without documentation should the customs launch board and search us). Eventually we convinced them to allow us to keep our papers and visit an open branch of the port authority in English Harbour.

In the event my trip across Antigua was an enjoyable and memorable experience rather than the chore I expected and I wished Nat had come with me. The journey took me to the capital St. Johns, a place buzzing with life on a Sat morning. Unsteady tables lined the roadside piled with exotic fruits and vegetables. Sugar cane was stripped and crushed or coconuts split to make refreshing drinks. Horns blared, music throbbed and over it all a gospel singer wailed again and again "The Lord our Saviour". The buses here run to their own timetable - they leave when they're full. Believe me it was getting full! Each person seemed to bring another 20kilos of vegetables packed into numerous thin plastic bags. Soon the inevitable happened and a bag ripped sending yams rolling in all directions. As we all ducked under seats retrieving them their owner started laughing, "dees yam not want to come 'ome today!". She sat next to me and after shepherding the yams between our feet and the chair in front assumed the role of tour guide telling me the names of villages as we swept through with all doors and windows open. The warm climate and simple houses allowed me to catch glimpses of lives as people sat on small veranders or under trees in groups - chatting, eating, braiding hair or simply watching. I vowed to take more trips on these local island buses, to strike inland and see beyond the beaches and boatboys.

For now though we just wanted to relax. We spent most of the bank holiday weekend in the marina strolling along the wooden pontoons looking at the other boats and enjoying limitless showers. When it got too hot we would wander the aisles of the smartest and most thoroughly air-conditioned supermarket in the Caribbean, situated close to the boat. Nat studied the magazines to catch up on important current affairs (apparently Tom is trying to cramp Katie's career) and I studied the frozen vegetables. After 30mins or so we would emerge with goose-bumps and chattering teeth - it was glorious. Late afternoon would find us sitting by the swimming pool with ice cold Tings (fizzy grapefruit drink) feeling like holidaymakers.

We moved north to Deep Bay for a few days.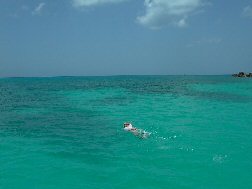 Mark Snorkelling in Deep Bay, Antigua
Small, protected and quiet with tropical blue water, a white sandy beach and a soft clean bottom that the anchor burrowed into quickly. Not especially deep though. We cleaned the bottom of the boat, swam a lot and explored the wreck of a large iron boat which had conveniently sunk nearby - the Andes, carrying pitch from Trinidad, caught fire and sank in 1905. Now as we peered down from the surface it resembled an aquatic metropolis - numerous colourful fish hurried this way and that, out of one hole and into another, as if traveling with direction and intent. A turtle spotted us and eyed us warily.

We had, again, really enjoyed our time in Antigua but felt it was time to start moving south toward our haul-out due mid-June in Grenada. However on return to Jolly Harbour to check-out we found the port authority closed again. It closed every weekend not just the bank holidays as I had assumed. Frustrated with the delay and feeling stupid we decided if we checked out on Monday morning as soon as the office opened we could just make it south to Guadeloupe before darkness (rather than wait until Tues). This was to prove to be a mistake ------

Top
Return to Message Log -Archive List