Received Thursday 21st July: 23:00

It is now one week since our departure from Brighton and the beginning of our trip. Our time has been spent failing, winning, having fun, getting frustrated, but most of all learning.

On Tues morning before leaving we wandered around the marina at Brighton expecting to feel something deep and spiritual at this significant moment; the beginning of our voyage. If fact it felt like walking around the marina - we cut it short and got started. We left around 1000 and had an uneventful passage in light winds to Gosport near Portsmouth. Wednesday morning it was very warm and we worked on the boat while waiting for North Sails to do some adjustments to the new sails.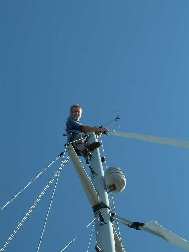 Around 1400 we left for Yarmouth in light winds but before long we were motoring into quite a breeze. The engine began to overheat and stopped at Cowes to fix the problem. The following day we waited for a fair tide and set off for Poole. It was another hot day and as we passed the moorings outside Yarmouth we couldn't resist stopping and relaxing for a few hours. It was a lovely spot and we decided to stay for the night. Friday morning we rose at 0400 and swept out of the Solent on a fair tide and into the dawn. Light westerly winds forced us to motor most of the way and I had to solve a charging problem as we went but we had a glorious sail for the last 6 hours into the sunset. Nat cooked food to be ready for our arrival at 2100 and as we ate black bean chilli,chips and rice: we felt pretty pleased with ourselves.
Saturday we stayed in a marina for a few hours while we had a shower and got some provisions then motored up river to anchor just south of Dittisham. This was our first time using the anchor and we felt we deserved our beer once it was set. Sunday we just relaxed then went ashore in the dinghy to have a pint. Everything seemed to be under control.... Monday morning reality hit. We woke at 0530 to check the forecast - while we had relaxed a depression had formed and breezy conditions were forecast for the next few days. Emerging from the boat at 0800 we realised to our horror that the change in wind direction and strength had dragged our anchor over a steep ledge and the boat was now slipping downstream. We grabbed some clothes and motored the boat out of trouble. After showering and eating ashore in Dartmouth we came back to try anchoring again and came to the conclusion that the anchorage was untenable. Unfortunately all the good places to anchor had been filled with moorings so we gave up and picked up a mooring(£5 per night to anchor, £10 per night to moor). Tues and Wed we decided to get off the boat and went for great walks along deserted footpaths - River Dart Trail, South Devon Coastal Path, Grove Woods. Thurs with stiff legs we left our mooring and went to Dartmouth for water and provisions and to get ready for our planned passage to Falmouth the next day.
Received Saturday 30th July: 1700
We left Dartmouth early Friday and motored/sailed in light winds to Helford River arriving just before dark to find the place jammed with boats. We managed to find a spare mooring and relaxed with a glass of wine. Once my favourite spot this pretty, quiet river is now full of moorings and looks like a boat parking area. Although the number of boats cruising seems similar to 5 or 10 yrs ago, everywhere along the south coast of England is simply jammed full of permanently moored or berthed boats.
Saturday we moved early to Falmouth (only a few miles) and managed to persuade the full marina to give us a proper berth so we could work on the boat. Shortly after our arrival at Falmouth the rain started and continued with only brief pause for the next week.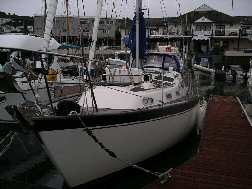 During this time we worked on the engine and watermaker, and completed lots of paperwork. Dad arrived on Sunday evening and left on Thurs helping us greatly. The high point of the week was a chance for the three of us to get off the boat and relax during a visit to the Eden Project on Wednesday.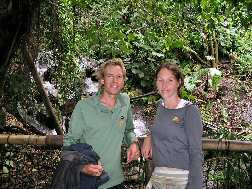 Eden Project -the very hot part
Today is Friday again and the weather seems much improved. We plan to study the weather and leave tomorrow or as soon as the weather looks suitable for La Coruna in NW Spain. This is our first big passage and signifies the true beginning of our trip.
Studying the Weather for our Trip across the Bay of Biscay
We will use the synoptic charts to forecast the position and movement of pressure systems around Western Europe and out into the Atlantic (you can find these synoptic charts elsewhere on this site). The systems tend to move eastwards towards us from out in the Atlantic so we will be looking out there particularly. We want the situation to be relatively stable (i.e. not changing too quickly) and generating Northerly winds so we get blown South. High pressure systems tend to give stable pleasant weather and a large high pressure sitting out in the Atlantic over the Azores and with no troublesome low pressures heading towards us should give us the situation we need. The trip will take about 5 days so we will be trying to look that far ahead.
Received Tuesday 2nd August: 0700
Had a good day yesterday. It is wonderful out here. The sea has changed from an electric blue to a deep inky blue as we have passed over the edge of the continental shelf. Now in 4km of water! We had 20-30 dolphins following the boat last night for 30 mins at sunset.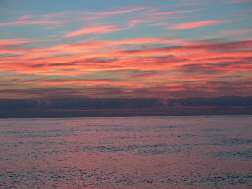 Awesome sunset in Biscay
After dark we looked in wonder as the sky filled with uncountable numbers of stars. Looking upwards we spotted some constellations and Nat discovered one that looked like a dolphin and found that it was called the dolphin. How cool is that? Only problem is that there ain't no wind. The expected easterly has started but is very light. Over half way now with La Coruna only 200miles. Posn 46deg 44.0N 007deg 24.0W.

Received Tuesday 2nd August : 1650
"Position is 46deg 08.9N 007deg 33.2W":
Sending for some weather info using the system so decided to provide yet another update of our progress. The weather is wonderful out here but there is zero wind so we're motoring again. Everything is going really well and we look forward to a beer this evening around 1930 when we will pass our 2/3rds of passage complete point. Then we will watch another great sunset and do some stargazing before starting our 2 or 3 hour watches and gaining some valuable sleep.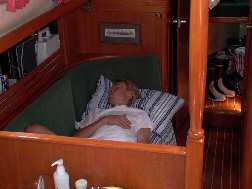 Mark taking brief rest in Biscay
Received Wednesday 3rd August: 1200
This morning the NE wind has arrived and we are very happy to be running downwind at steady 3 knots. This speed is good to time our arrival for dawn tomorrow at the approaches to La Coruna.
All the motoring has not gone to waste though as this trip we have had limitless power for the fridge and to send frequent emails. Plus we can today treat ourselves to a warm shower aboard as opposed to the cockpit splash with the luke-warm solar shower.
Our position this morning is 44deg 44N 008deg 11W. We hope to see signs of the Spanish coast shortly after dark this evening. We are flying our Spanish courtesy flag in anticipation!
For further information, see La Coruna (that site is a bit complicated but the photo is OK)
Received Saturday 6th August
Biscay Crossing-Part4 :Approaches to and Arrival at La Coruna

During Wednesday, our fourth day at sea, the wind increased steadily until by late afternoon we were crashing along at 6 knots under much reduced sail and at around midnight we found ourselves rapidly approaching the rocky and unfamiliar coast of Galicia, also known as ´Costa da Morte´ (The Death Coast). The seas were rough and the wind a near Gale (NE F7). Not far away we could see fireworks exploding over a coastal town. How we wished we were sitting in a little bar with a beer enjoying the festivities! Could we risk the approach in the dark in these conditions? Another option was to run away from the wind. This would reduce the strain on the boat but would take us away from La Coruna and towards wild Cape Finnisterre and its busy shipping lanes.

Our third option was to back the sails to stop the boat (called ´heaving to´), seal ourselves inside and sit it out until dawn, then try an approach in daylight. We decided to heave to and spent an unhappy and tense 5 hours lying on the floor of our wet and chaotic boat. We must say though that however hard it blew, and however high the waves, Free Spirit took it all in her stride and felt solid and sure-footed. At dawn the conditions were much the same with wind steady at 30-34 knots, but we were rested and felt stronger and more optimistic in daylight. So, at 0500 we ate a little fruit and got the boat moving again. Three hours later the conditions improved significantly as we passed behind the
headland. A while later we were in the marina at the heart of the beautiful capital of Galicia, blinking in the sunshine and smiling broadly!
Our first major passage was successfully behind us.